With Zoom Integration, you can show your users the information regarding your meetings and webinars. Provide the users with an embedded code of your event link plus username and password. You can choose whether they should be able to see this information after the reservation or be shown to everyone. You can also send this information via email after the reservation is done. Put a badge on shortcodes and single events to make them stand out.

The minimum version required for this add-on is 5.12.0.
After installation, you can see a sub-menu in MEC's main menu, which allows you to access the add-ons data and its integration with Zoom. First, you need to get down to combining. In order for this, you should log in to your Zoom account and follow the procedures below:
Create OAuth App
1- In order to get the necessary APIs for activation, click on this link: https://marketplace.zoom.us/develop/create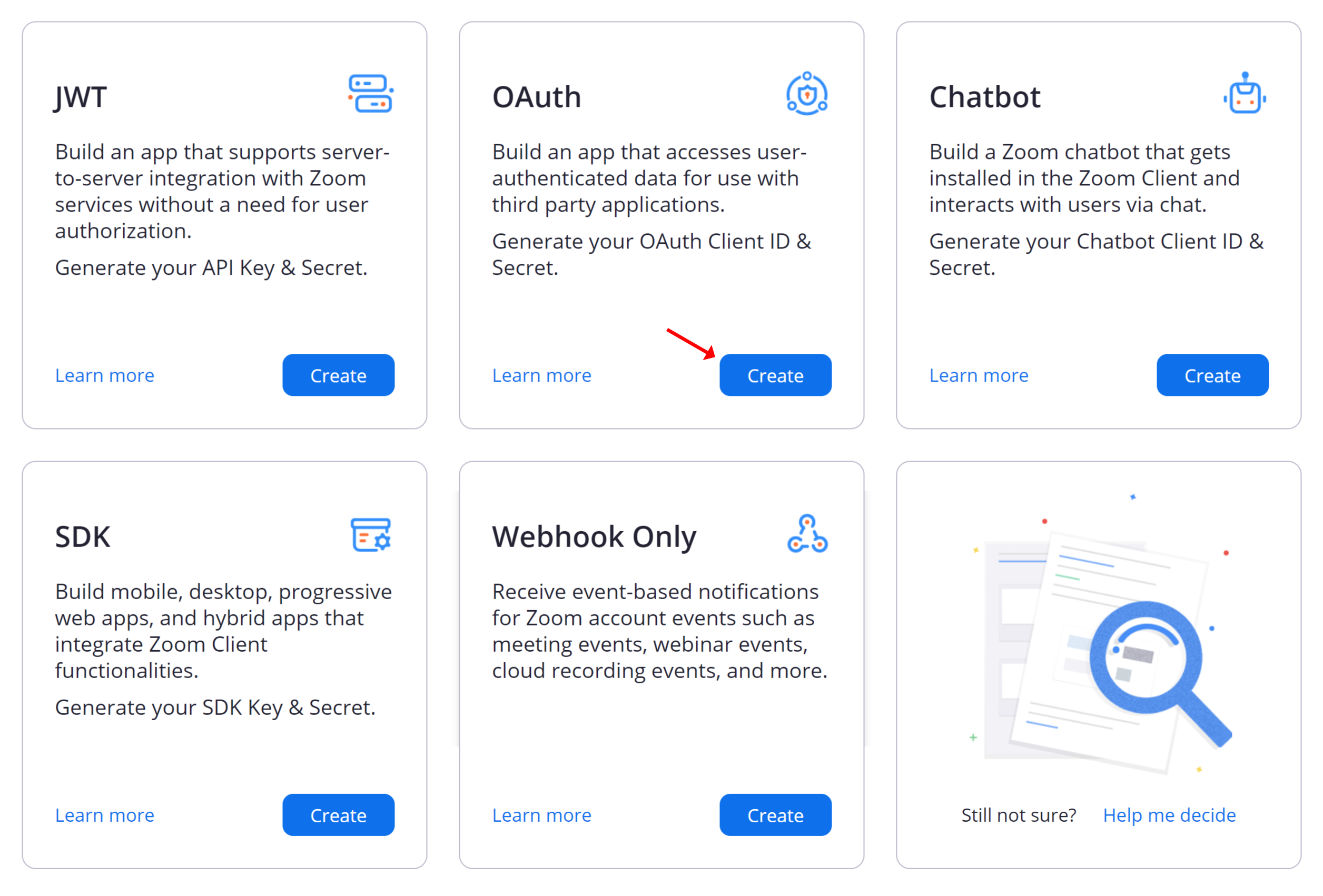 2- In OAuth, create a new OAuth and continue as shown below, for further information on creating OAuth, click on this link: https://marketplace.zoom.us/docs/guides/build/oauth-app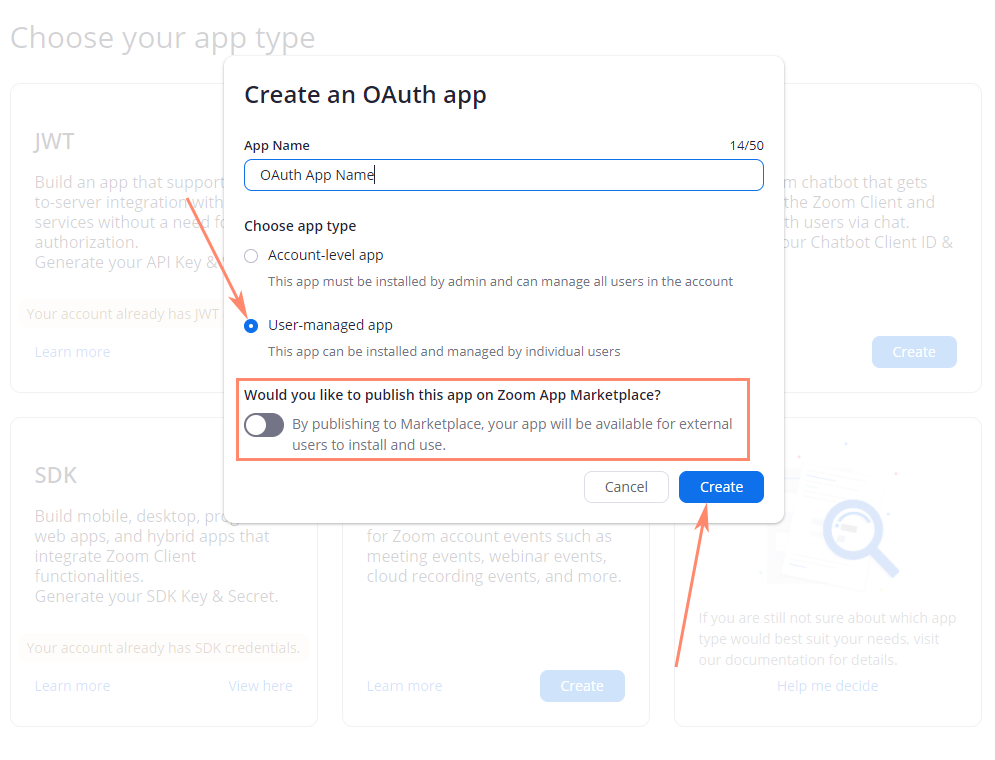 Make sure to deactivate "Would you like to publish this app on Zoom App Marketplace?"
3- Now, click on 'Create'. You will be redirected to OAuth settings. In the first tab, you can see the Client ID information and Client Secret. Copy and paste them in the API settings of the add-on in WordPress dashboard:
WordPress Dashboard > MEC Menu > Zoom Integration
You will see an option called 'Redirect URL for OAuth' in which you should put the provided link in the add-on settings.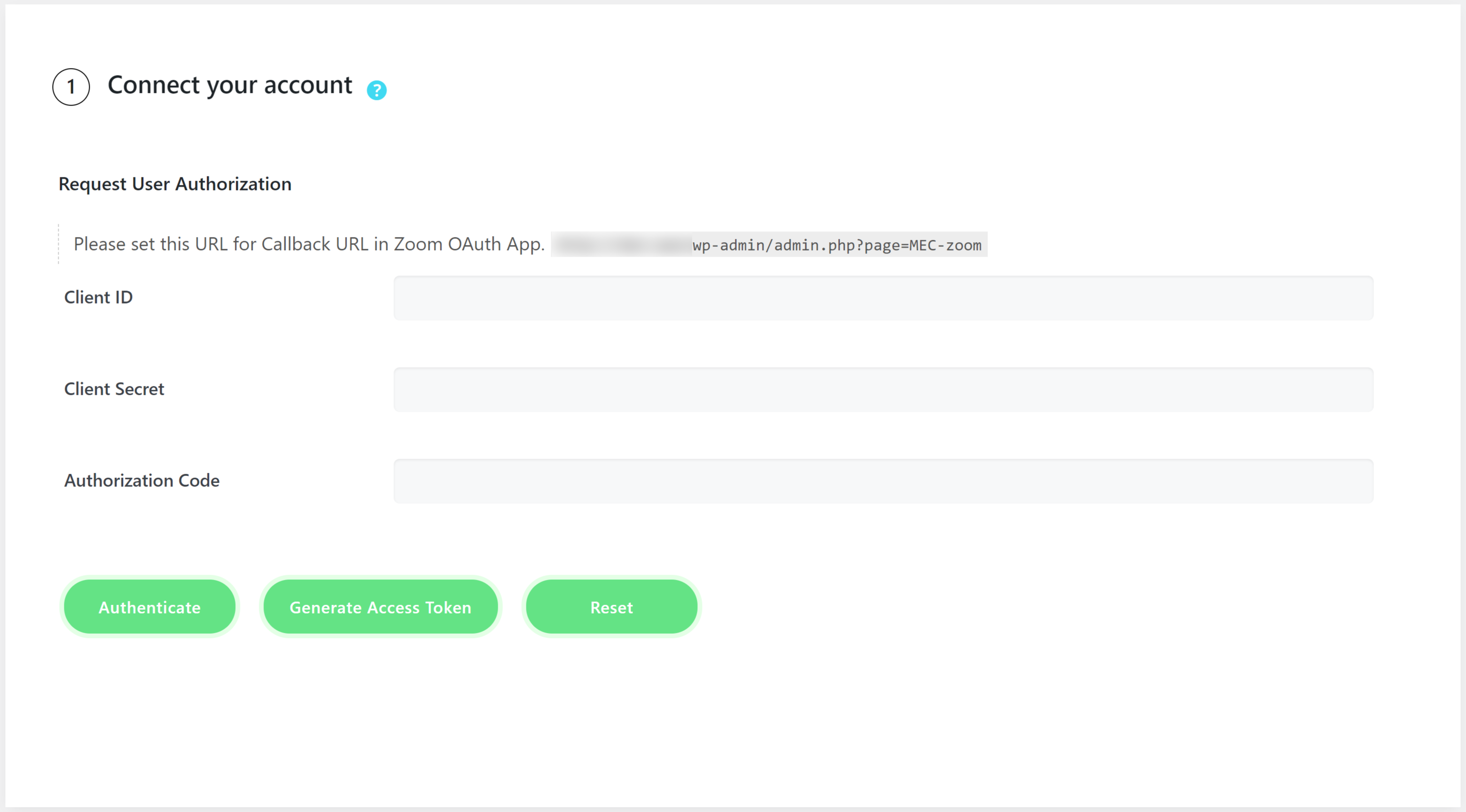 4- Add the link mentioned above or your website's home page link to whitelist URL:
Up to now, everything has been saved automatically. Now, click on 'Continue' so you can complete the OAuth configuration.
5- In the next tab, you should set a short description and a long description for this OAuth.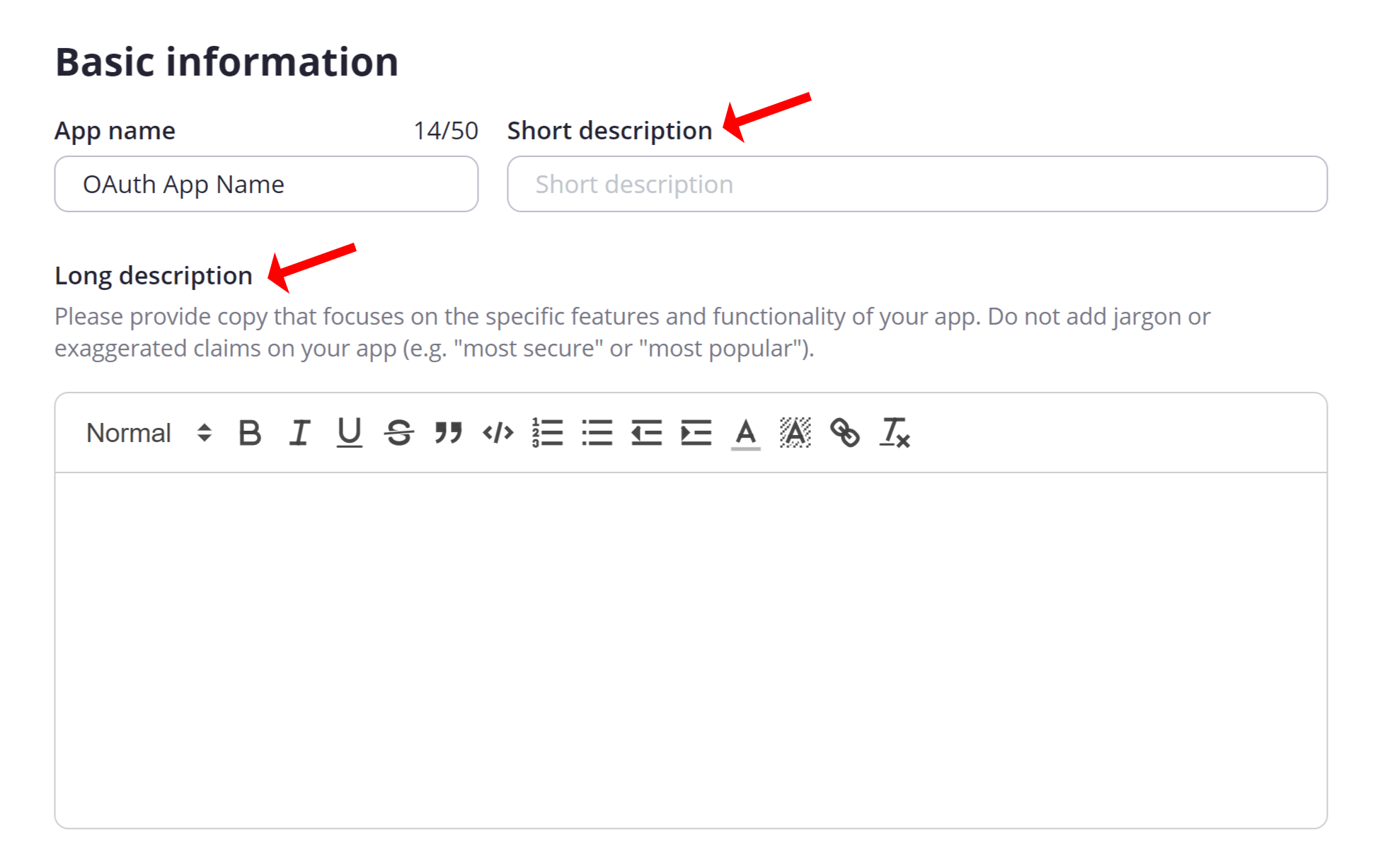 You can also have a cover image with JPG/GIF/JPEG/PNG formats with 1200x780px ratio and 40MB size.

This would be the basic information of your application. Further down in this tab, you have to insert the Company Name and Developer Contact Information.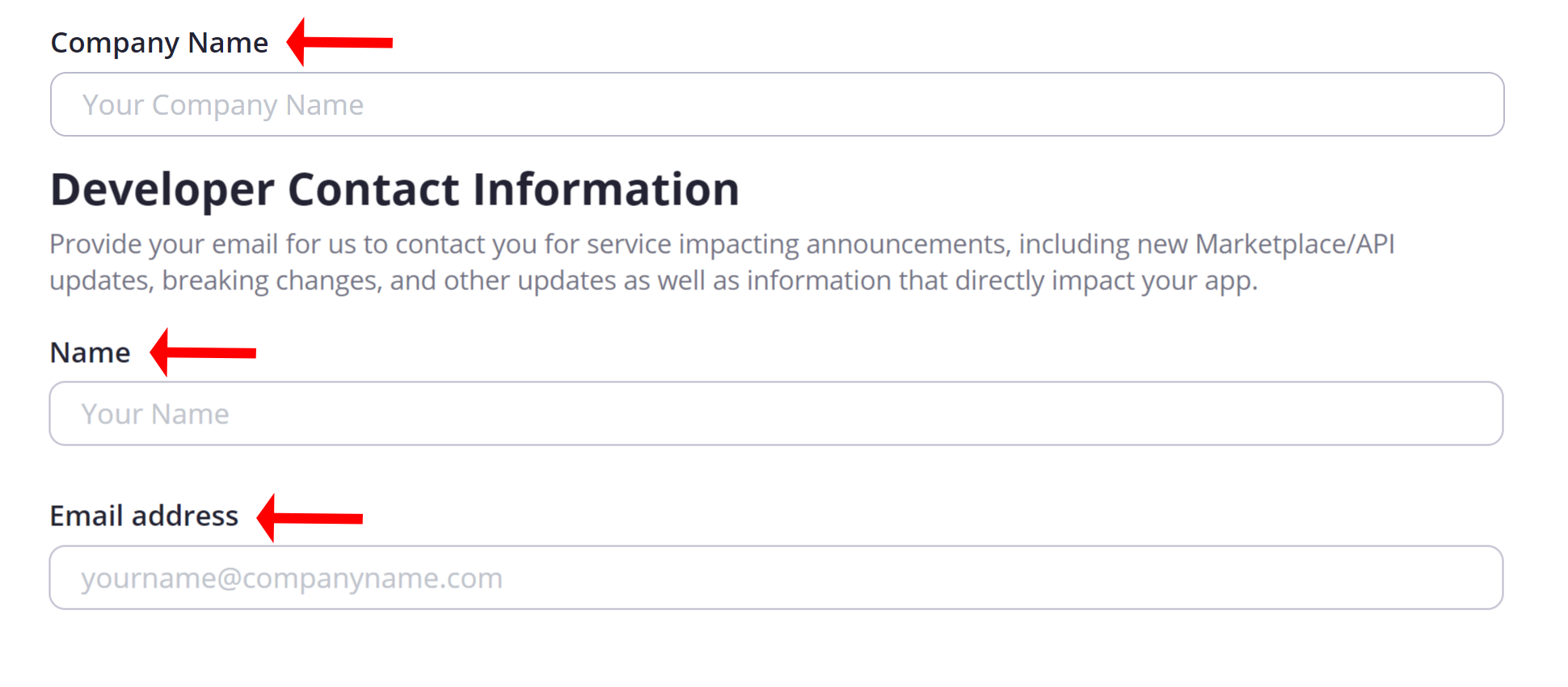 Privacy policy, terms, and support URL are optional.
6- For now, we ignore the 'Features' tab. In the 'Scopes' tab, you need to add the required scopes by clicking on Add Scopes, and then a pop-up window appears then.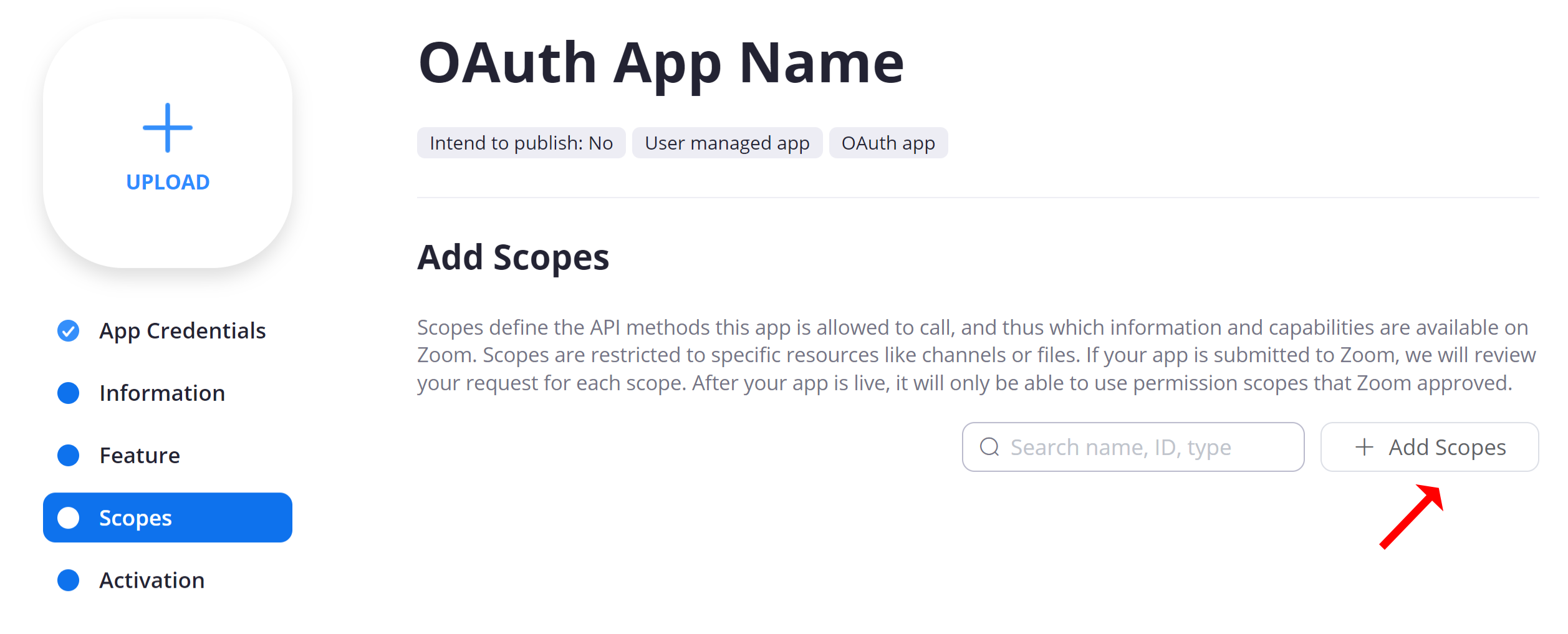 7- In the opened window, give permission to the meetings and webinars to be read and written. Do as follows: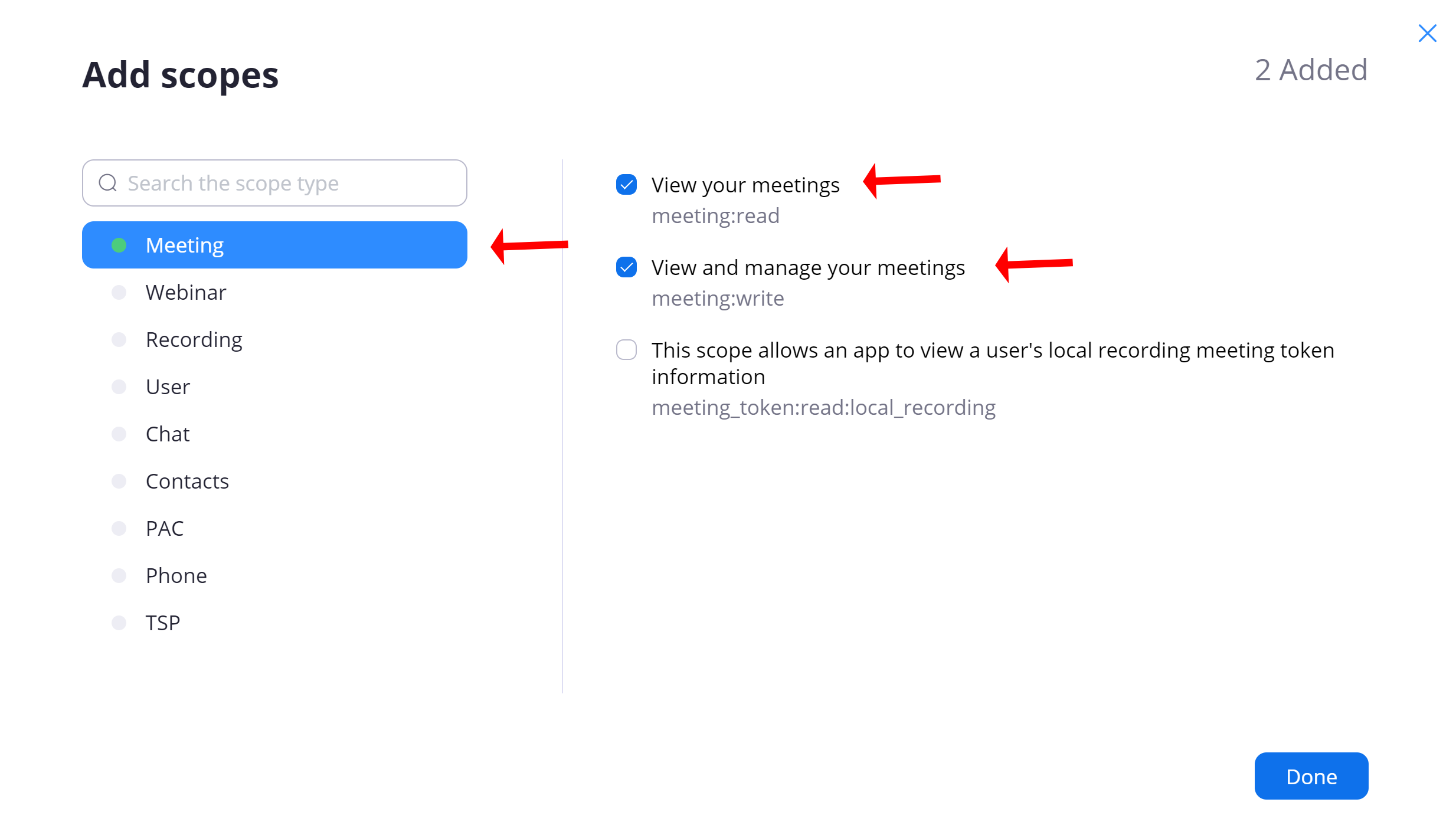 8- After doing so, you will see the Scope Names of IDs. You need to set a description for each. Click on 'Edit' and write your descriptions.
9- Your application is almost ready. Now you just need to add the Installation URL to the Zoom Integration.
10- Now, click on 'Authenticate' so it will be authorized.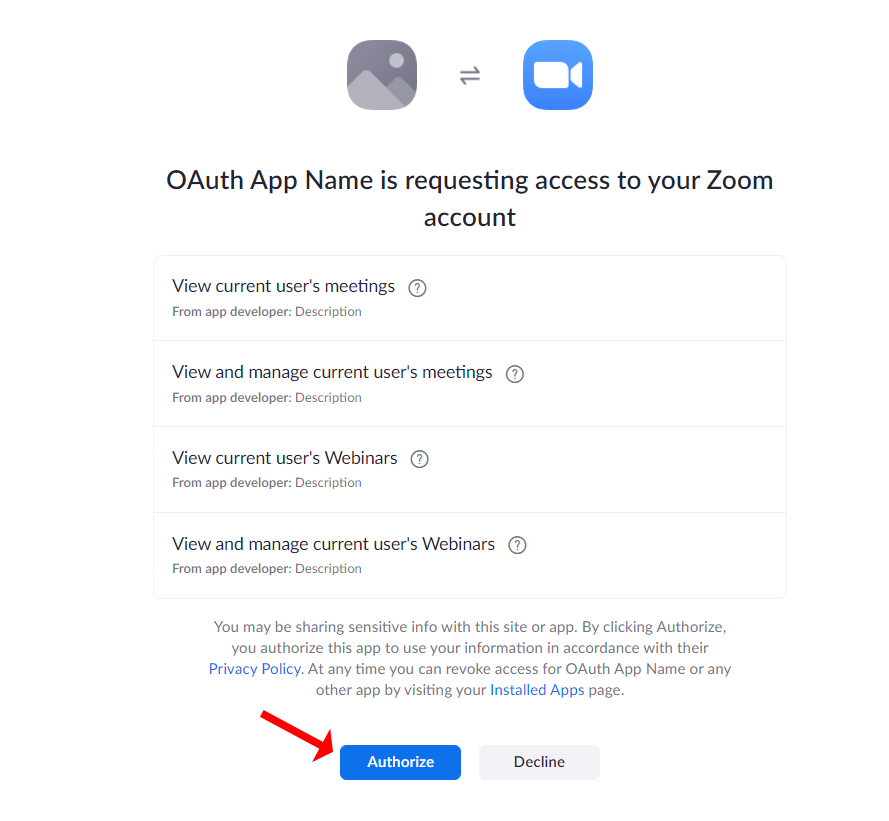 11- Click on 'Authorize' to get back to the Zoom Integration page. After doing so, the Authorization code will be automatically generated. Now click on 'Generate Access Token' and you will have a new access.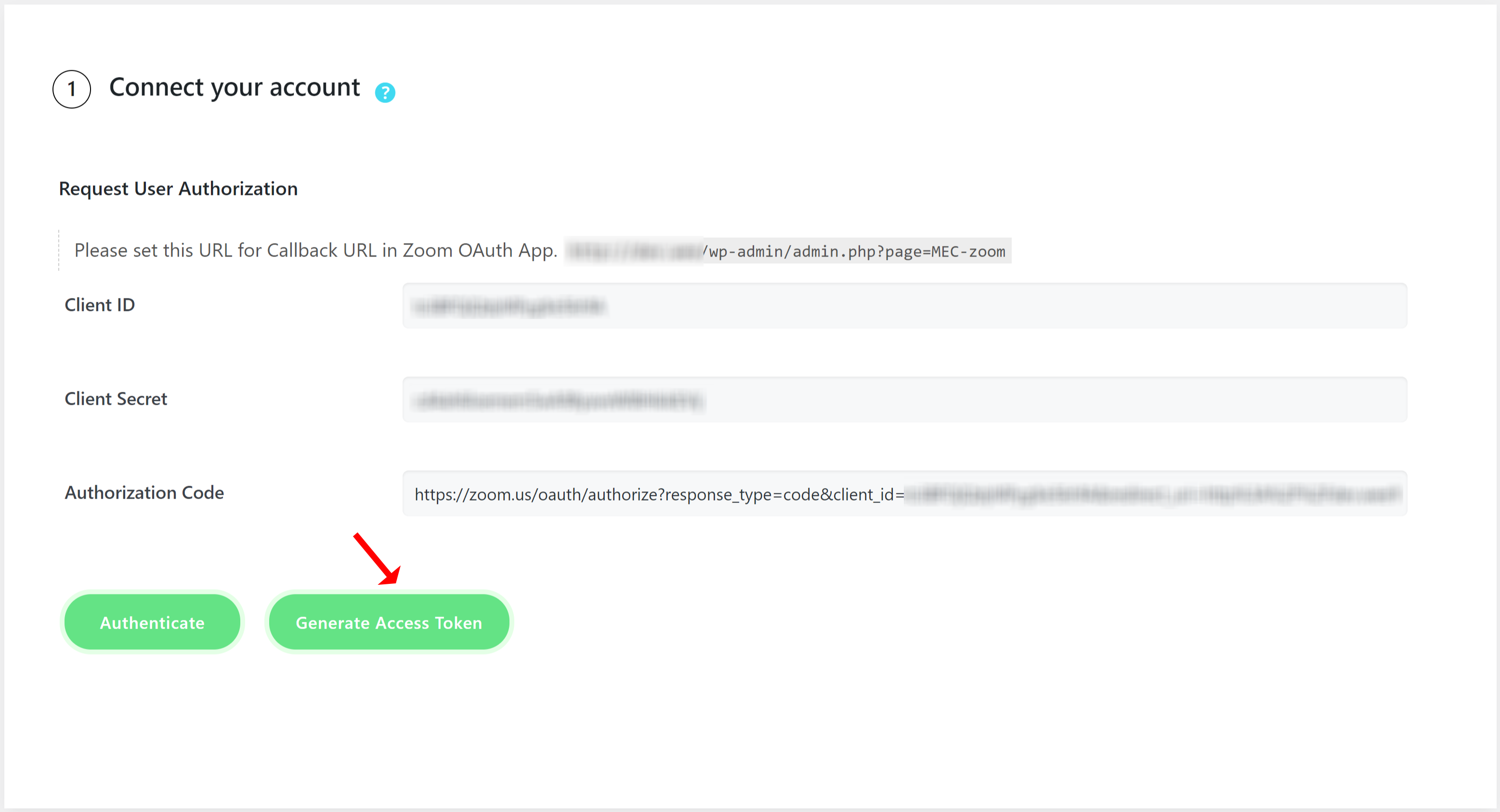 12- The system will start checking to give permission. This might take a while. If you do not have a proper configuration for your host on the php.ini file, this might take more time or even give a timeout error. So make sure your server has a proper PHP execution time. After the generation of the access token, you will see a new box that points to the second stage.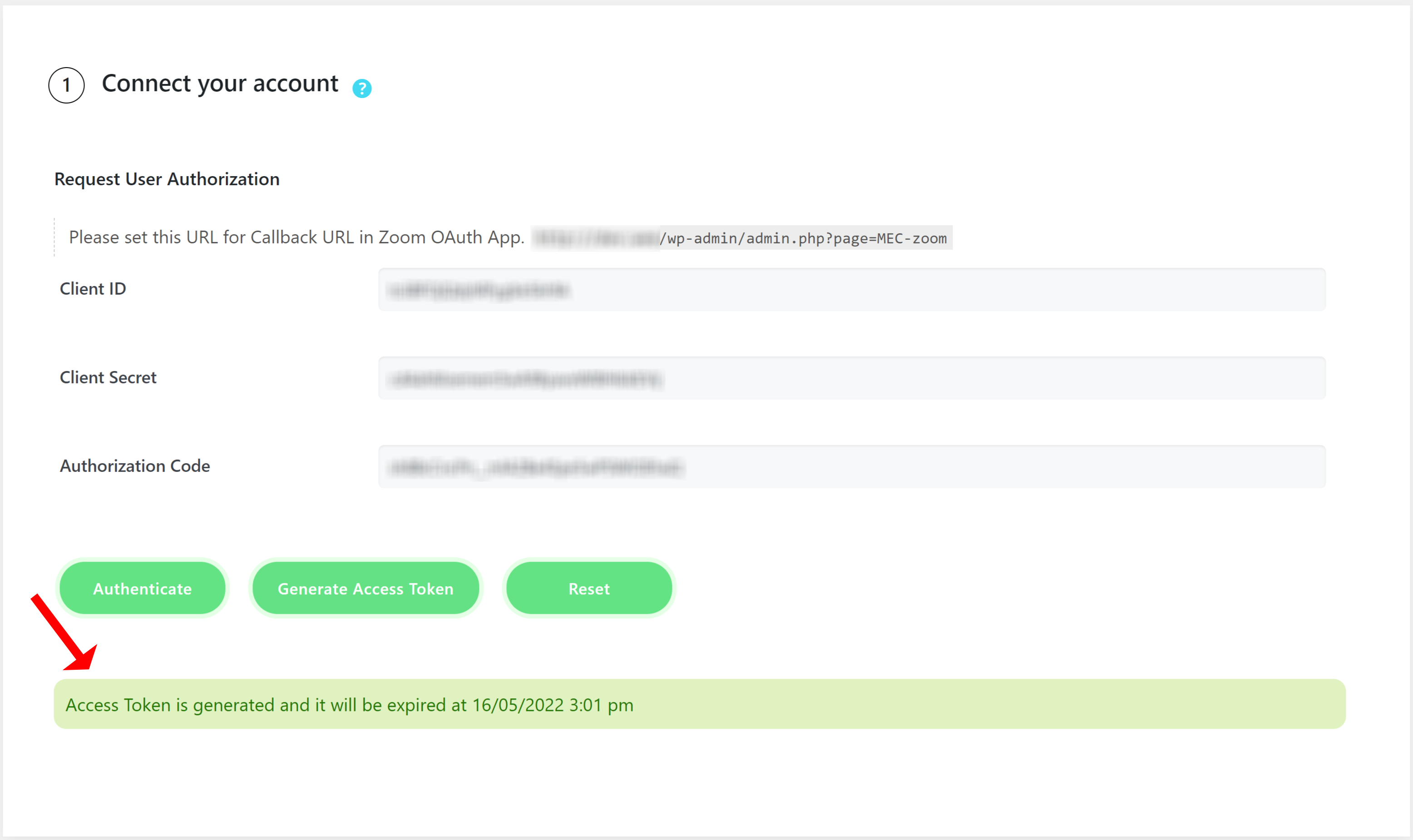 Note: During the process of import, you may find that the access token has expired. In this case, you need to refresh the page or click again on 'Generate Access Token'.
13- In this stage, you can transfer your meetings or webinars from Zoom to MEC in the form of an event. In order to do so, click on Get Meetings or Get Webinars to see the list of meetings or webinars. Select one, some, or all of them to be imported and at the end click on 'Import'.

Note: During the process of import, you may find that the access token has expired. In this case, you need to refresh the page or click again on 'Generate Access Token'.
14- Go to the list of all events in the backend. The imported events contain essential information for entering the webinar of the meeting. You just need to complete your event and create the main characteristics of it, such as the speaker, organizer, description, featured image, etc.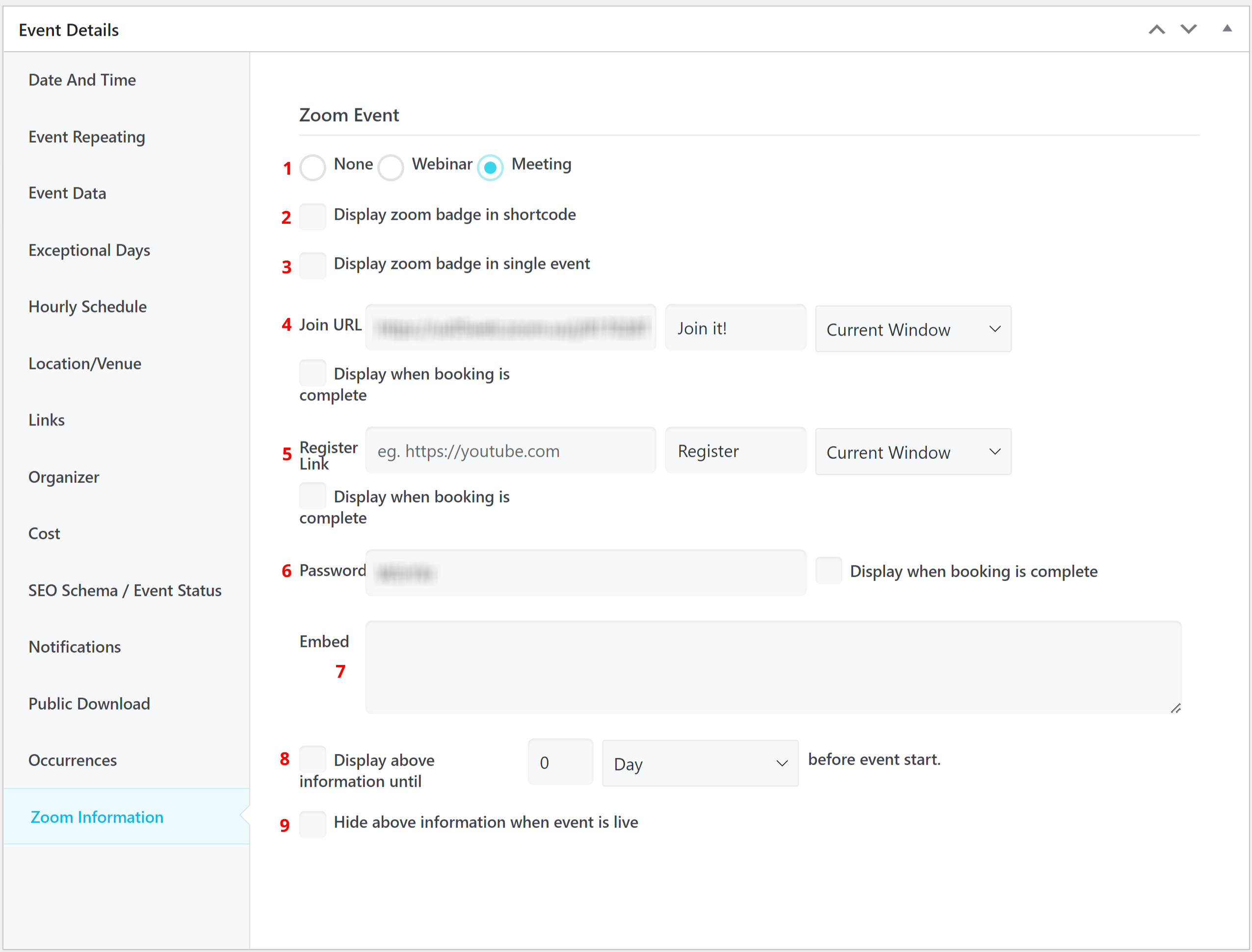 Single Event Settings
Regarding the new tab after installing Zoom Integration, some complementary information is provided here:
Type of the event

View zoom badge icon in all shortcodes as a badge:


View the badge in Single Event page, in the sidebar:


Join URL with title and link target

Register link

The password to join the zoom event.

Embed code (for instance a YouTube video or…)

View the above info in a certain interval before the event starts.

Hide the details once the event is live.
A checkmark box can be found in front of 'Link and Password' options. If you check them, the user can view that info when they make a booking and consequently they won't be viewed on top and will only appear when the reservation is made.

This addon uses placeholders for email to send the above mentioned info to the users.
Making preparations for Exporting from MEC to Zoom:
You may need to transfer your events from MEC to Zoom. For that, you need to make sure that you've already defined what events need to be transferred. You can do this by going to Edit Event Page for each event you want transferred and then go to Event Details > Zoom Information and define that your Zoom event is either a 'Meeting' or 'Webinar'.
Then go to 'Zoom Menu' under MEC – you might need to generate access code again – then in the new window simply click on 'Export Events to Zoom'.