You can easily sell your events on your website using the Ticket & Invoice addon. this addon allows you to manage your attendees' check-in, send out tickets and invoices in email format.
The QR codes on the tickets enable you to check-in attendees using the QR code scanner device. Using this tool, you manage your payments on your own website. No need to refer your customers to any other third party websites.
For installation, head over to your WordPress Dashboard > Plugins > Add New and upload, install, and activate the addon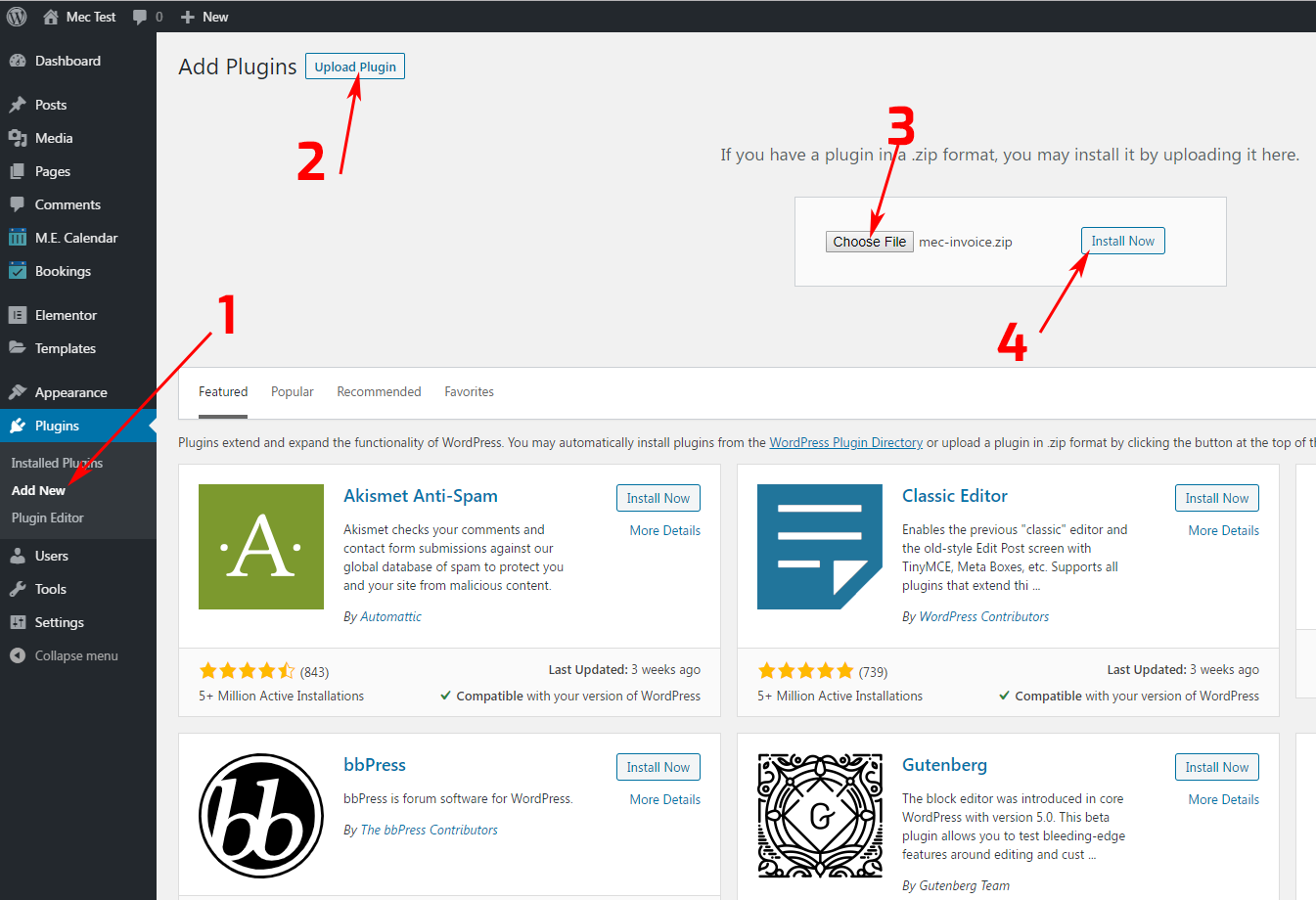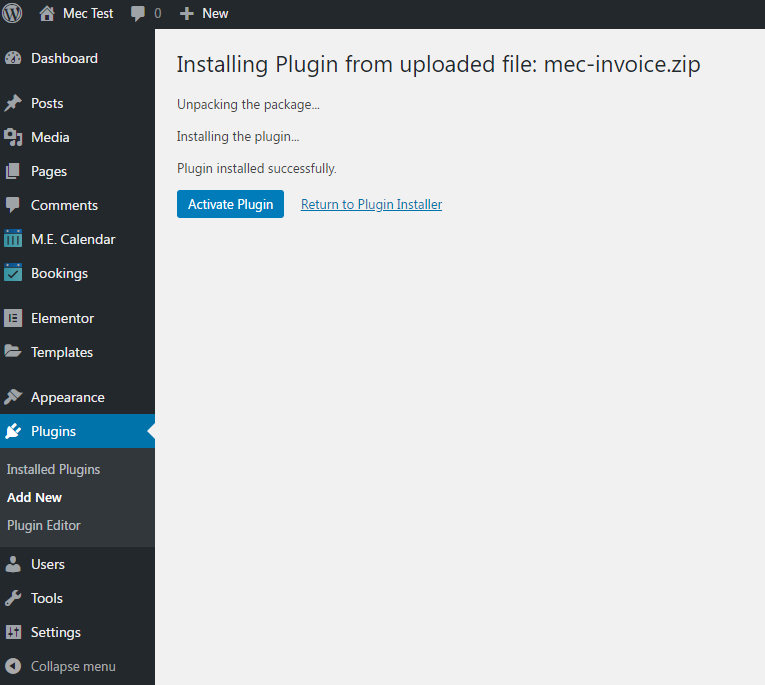 You can see certain numbers in the image above which we will explain down below:
Invoice Options
1. Invoice Title: Enter the URL of your company
Company Information
2. Company URL: Enter the URL of your company
3. Company Name: Enter the name of your company
4. Company Email: Enter the company's email address
5. Company Phone: Enter the company's phone number
6. Vat Number: Enter VAT number here (optional)
7. Description: Enter a short description of your company
8. Address: Enter your physical location
9. Logo: Upload your logo or link an image (you can select media)
Invoice Number Generation Settings
10. Invoice Number Start Point: set start point of your invoice here.
11. Invoice Number Length: you can see example blow this field.
12. Invoice Number Pattern: you can see example blow this field.
PDF Generation Settings
13. html2pdf API Key: PDF Rendering API Key: https://dash.html2pdf.app/registration (just register a key and get an API simply)
14. Selectpdf API Key: Enter your API Key to create the PDF file. Use the following link to purchase a new API key: SelectPdf Online HTML to PDF API.
15. Selectpdf Margins: Default margin is: 5 5 5 5 . Please don't use "px" or "%" or "em" on box field.
22.1. Display Invoice Description in Print and PDF Mode: You can choose whether the description would appear in the downloadable PDF file or not (If "Display Invoice Description in Print and PDF Mode" is disabled it will be sent via email)
Live Attendees Settings
16. Use Pusher API For Live Actions
With the "Use Pusher API" option, you can see who registers events at the current time.
After using Pusher API, go to MEC > Report, find your event and the date you want to track to see who registers.
Check-in & Notification Settings
17. Disable Invoice Email Notifications: by enabling this option you can disable invoice email.
18. Enable Check-in Using QR Code only On Event Opening: Days:option explains itself.
19. Send Ticket & Invoice for each Attendees: You can make it so that if a user enters multiple emails (that is multiple tickets are purchased for different people) then they also receive an invoice separate from the total sales.
20. Custom Fields in Invoice:
22.2. Disable MEC Booking Notifications: By enabling this option, the pre-defined booking confirmation sent to the customer by MEC is disabled. Addon's email is sent in both disable/enable states. Check this if you want emails to be sent out from this addon rather than MEC
21. Checkin Roles: You can assign which WordPress role can perform the check-ins
Invoice Rendering Settings
22. Invoice Type: Select invoice skin type (Ticket Skin & Modern Skin):
Ticket: If you use ticket type then you can set the format of date & time for the ticket purchased by the end user
22.3. Date Format (Tickets): You can set an order for displaying dates in tickets. For more information please refer to All Date Format.
22.4. Time Format (Tickets): You can set an order for displaying times in tickets.
Modern: If you use modern type then you can add a description to it.
22.5. Show invoice time in modern style: Display invoice time (minutes and hours) in modern style.
22.6. Invoice Descriptions: Write the description text here – HTML is also available
23.
24. Event Date Format: You can set an order for displaying the event date. For more information please refer to All Date Format.
25. Invoice Custom Styles: If you've got a CSS for the tickets then make sure to place them here and it will also be implemented in the PDF file and the email sent to the user – If you'd like to know more about CSS then make sure to take a look here:
INSPECT ELEMENT
26. Import Invoices from Bookings: Import the old invoice to the new structure. This allows you to import/migrate any existing bookings to this addon so you can manage them right here; simply click on the button and the whole process will be taken care of automatically within a few seconds
Note: In case you weren't able to download PDFs after you've set up this addon, you need to make sure of two things:
The PDF's API needs to be correct
The need to update permalinks from the WordPress Settings > Permalinks even if they are correct
Note: If you've made CSS changes and they haven't been applied then we urge you to check your CSS code's structure and then check the cache.
We will continue the tutorial on how to work with this addon below and will probably have to refer to the features listed above with their corresponding number.
Make sure to follow the instructions below and save your changes made in the settings.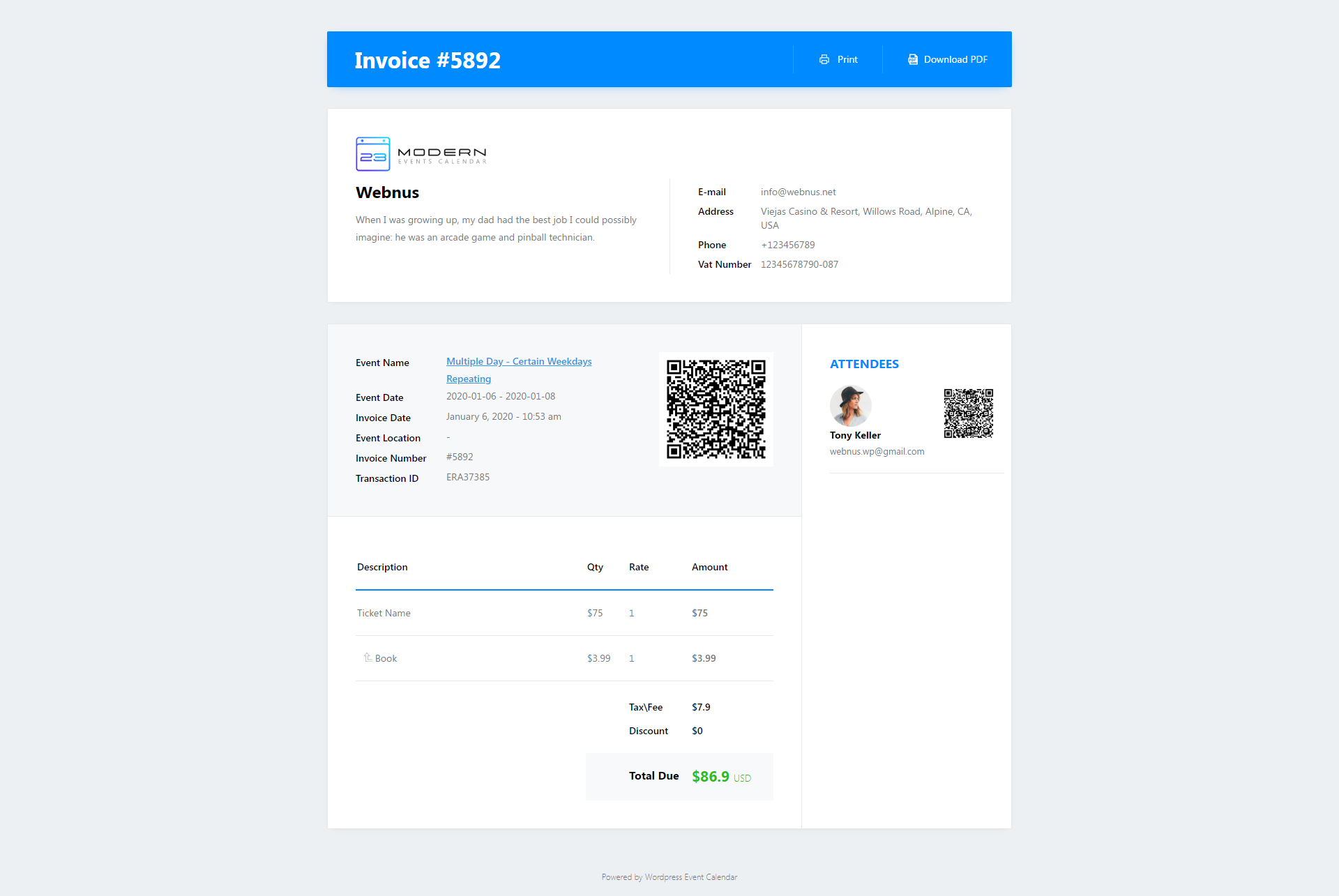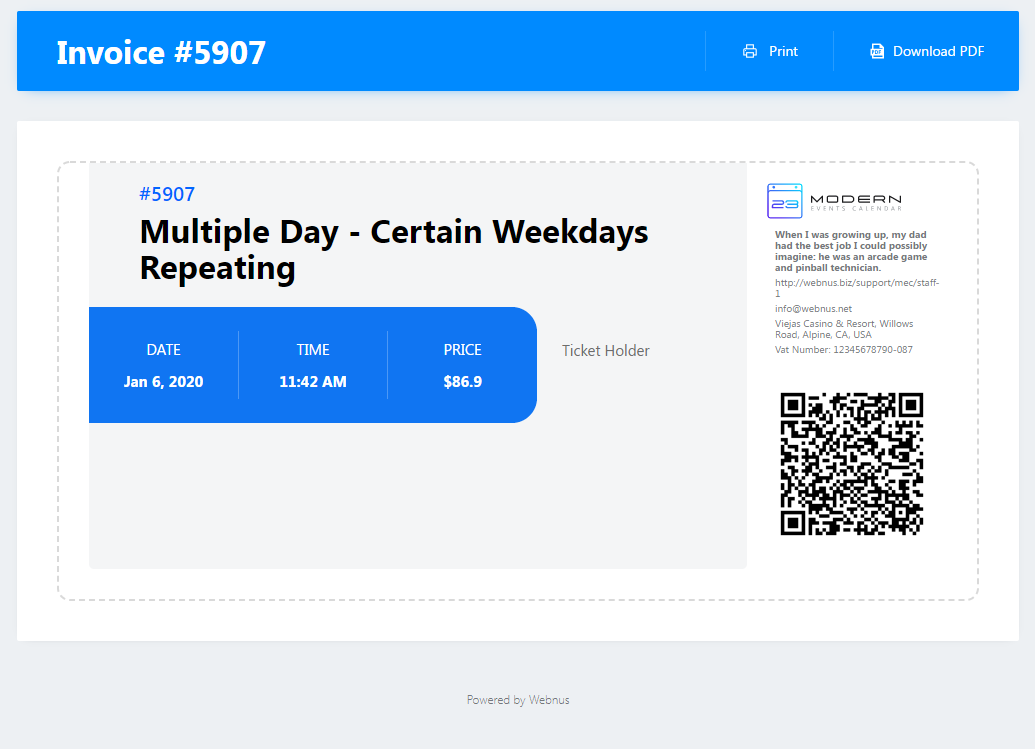 Once your invoice template is created and done, all you need to do is create an invoice. To do so go to your WordPress Dashboard > MEC Invoice > Invoices
Here you can see all the bookings; this is similar to the Booking menu on MEC.
Explaining the numbers in the image above:
In order to manually add an invoice click on Add New
Use this option to export all your invoices in a zip file
You can also use bulk action and use filters during the selection
To check the invoice click on View Invoice
To manage the invoice click on the link
If you click on Manage, you'll see the image below:
Explaining the numbers in the image above:
The invoice's information
The attendees depending on the role you're assigned, can go into MEC and perform the check-in process
Checking-in can also be done via QR code scanning once the attendee shows you their QR code.
This can also be done using a QR Reader or third-party apps for Android and iOS.
Place the QR code in front of the camera, it will either check in the user or give you a warning if there is an issue. Therefore, any chance of duplicates or fraud is eliminated since no one can simply create their own QR code and try to get in.
Once the attendee has checked in, it'll show the invoice as green and there will also be this icon: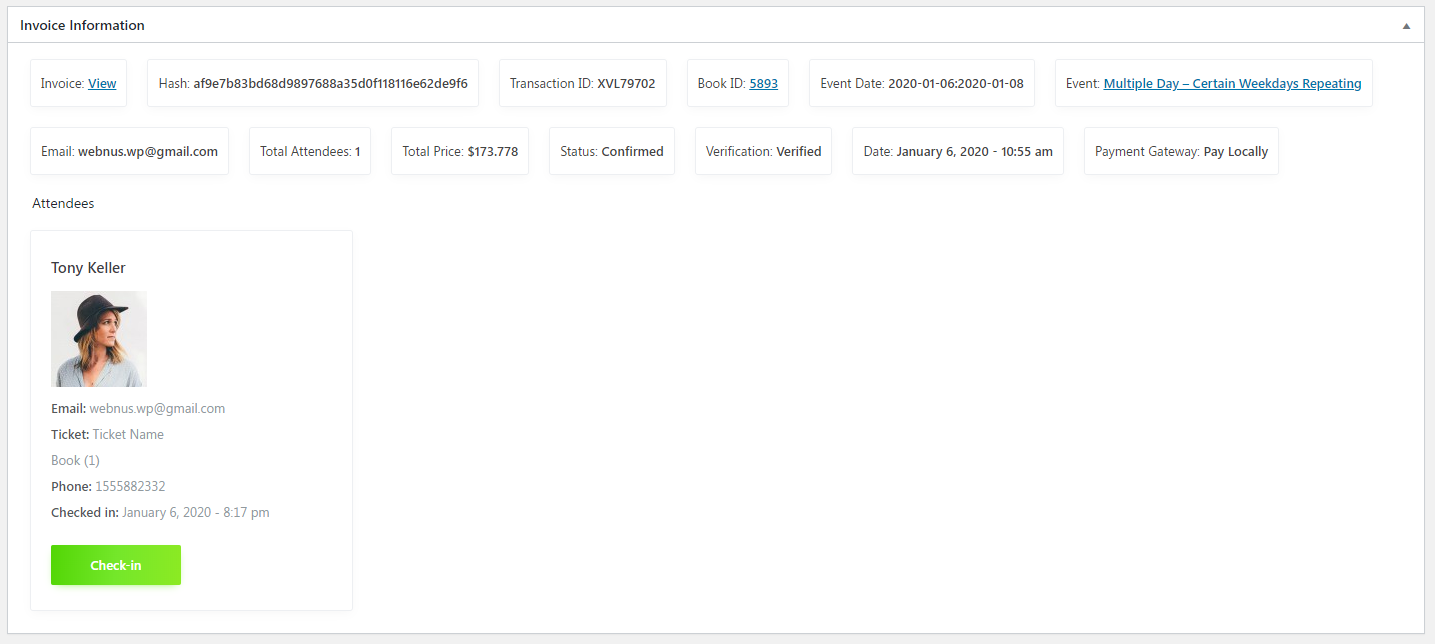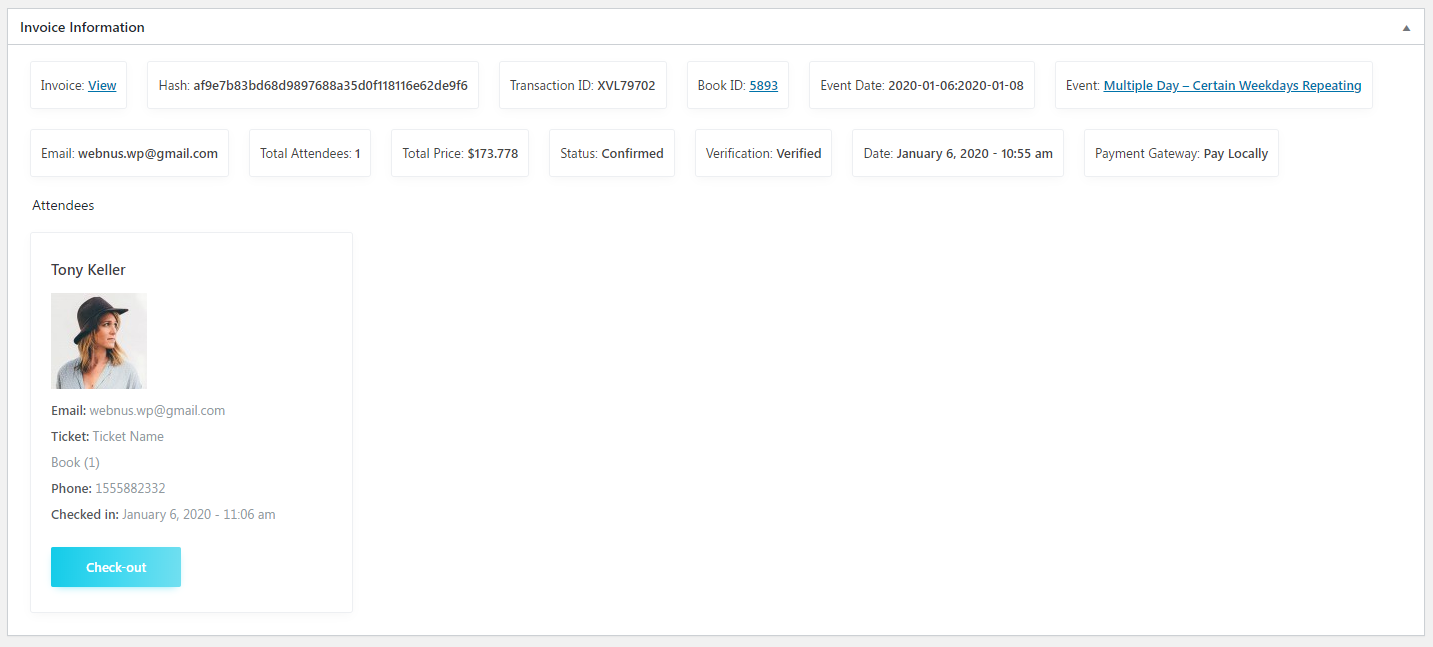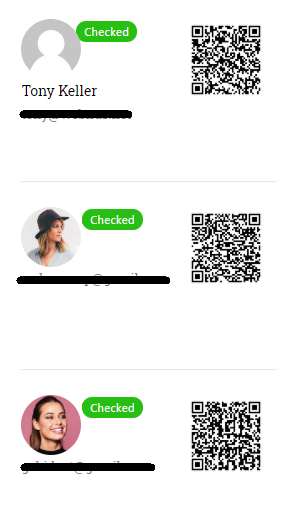 In order to manually add a new invoice, click on Add New and then select your event. Afterward, you'll see the tickets for that event and you can use the form which has appeared to add a new invoice.
By clicking on Add Attendee, you'll add a new user to your website but your invoice isn't complete yet. You'll need to publish the invoice in order to complete the process.