Speaker module in Modern Events Calendar lets you to add "Speakers Specifications" for the event and provide their contact information for the audience.
Modern Events Calendar Speakers Module Options
In order to use this feature you need to go to MEC Settings > Modules > Speakers and check the "Enable speakers feature" option.
Then you need to go to M.E.Calendar > Speakers and create a new speaker.
To have the speakers section visible in the single events sidebar, you need to go to your WordPress widgets menu and enable the speakers option under the MEC Single Sidebar.
Click here to read more about Modern Events Calendar single sidebar.
Then you can search your speaker's name under the Speakers section of your event settings page (just like a tag).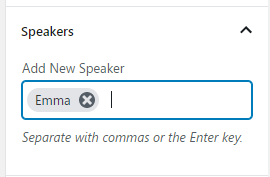 Add / Edit Speaker
Every speaker has the following fields shown in the images:
Hourly Schedule
You will also see this option in the hourly schedule menu, so you can add more precise and applicable time frames to the single event.