Using this addon you can revolutionize the appearance of your events and shortcodes. Make sure to enjoy the awesome experience with its new UI and UX. Additionally, it has more than 20 different skins compatible with your devices. These skins are designed based on the most recent design trends, using which you can magically turn the look of your calendar upside down and inside out. This addon is completely free to use for our customers (temporarily). You just need to install it and everything is set.
How to install the addon
To install MEC Fluent-view Layouts addon, please head over to your WordPress Dashboard > Plugins > Add New and upload, install, and activate the addon.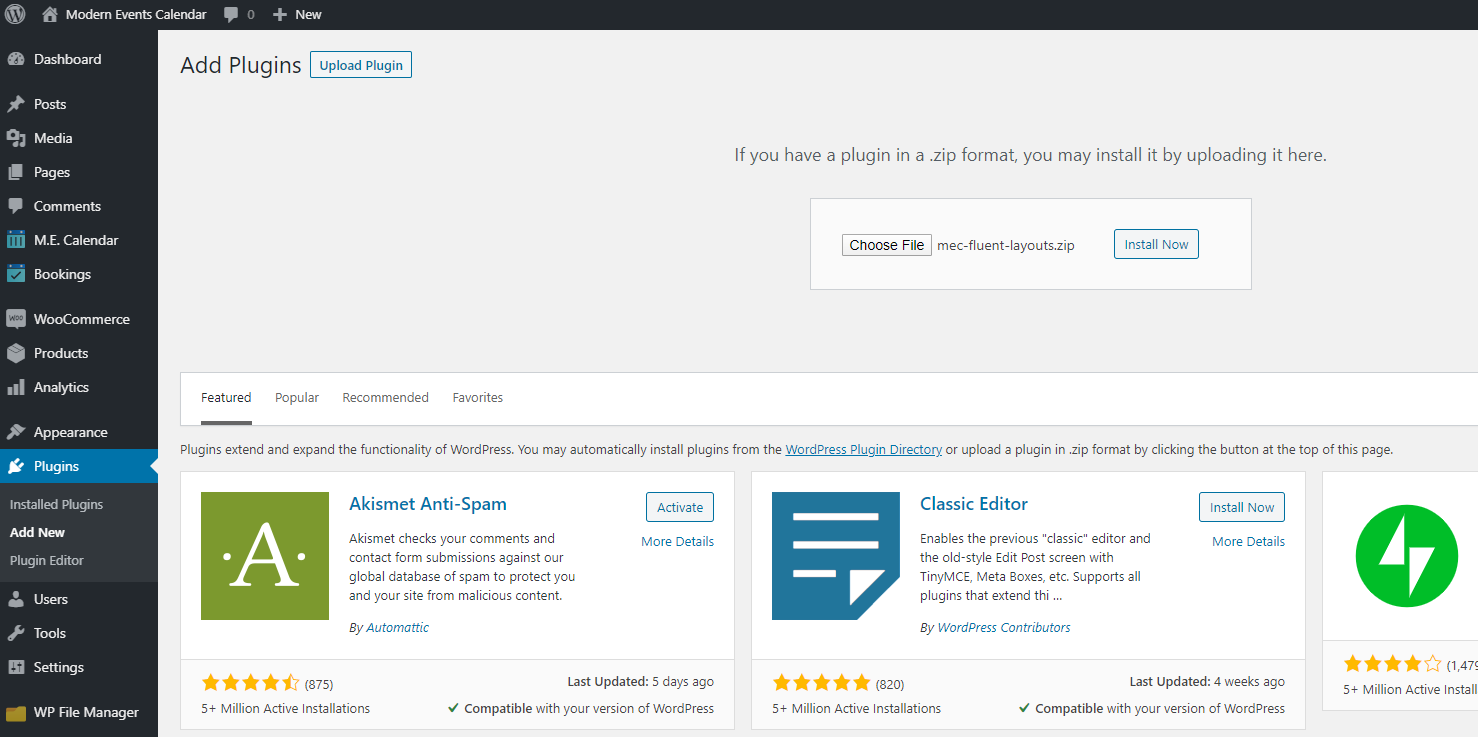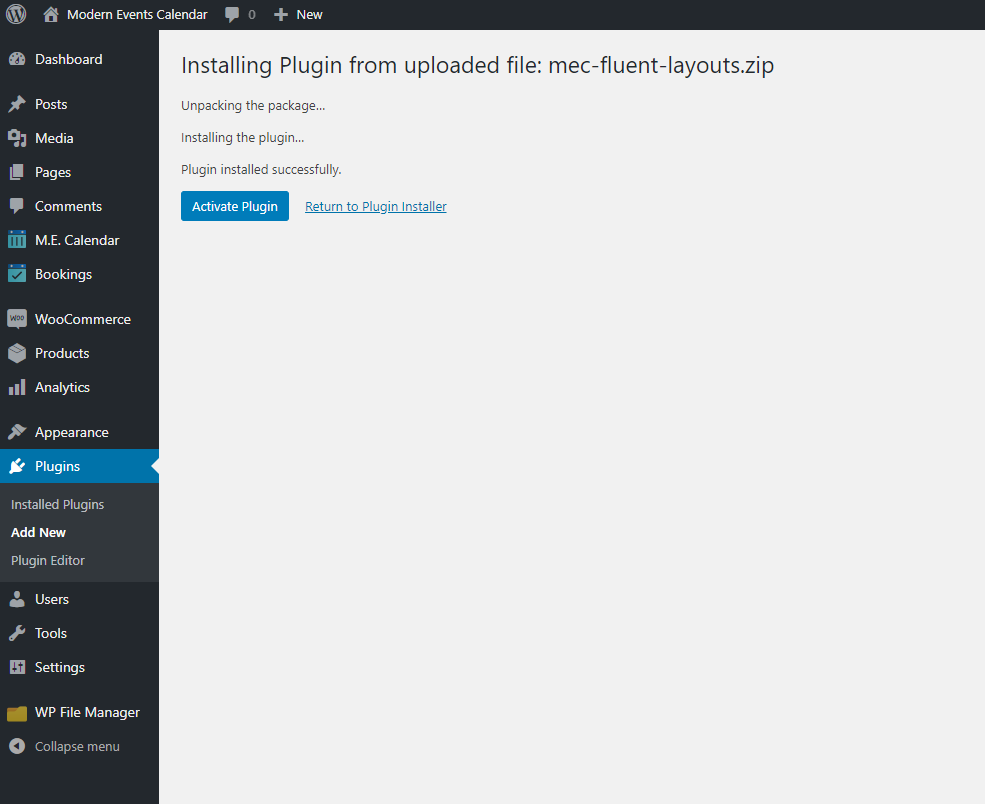 How to create a new shortcode with Fluent Style
After installation, when creating a new shortcode, you need to set the Style option on Fluent. Some skins have more than one type, for example Available Spot and Cover View. In order to make a shortcode, you can use the instruction we have provided here: How to create a new shortcode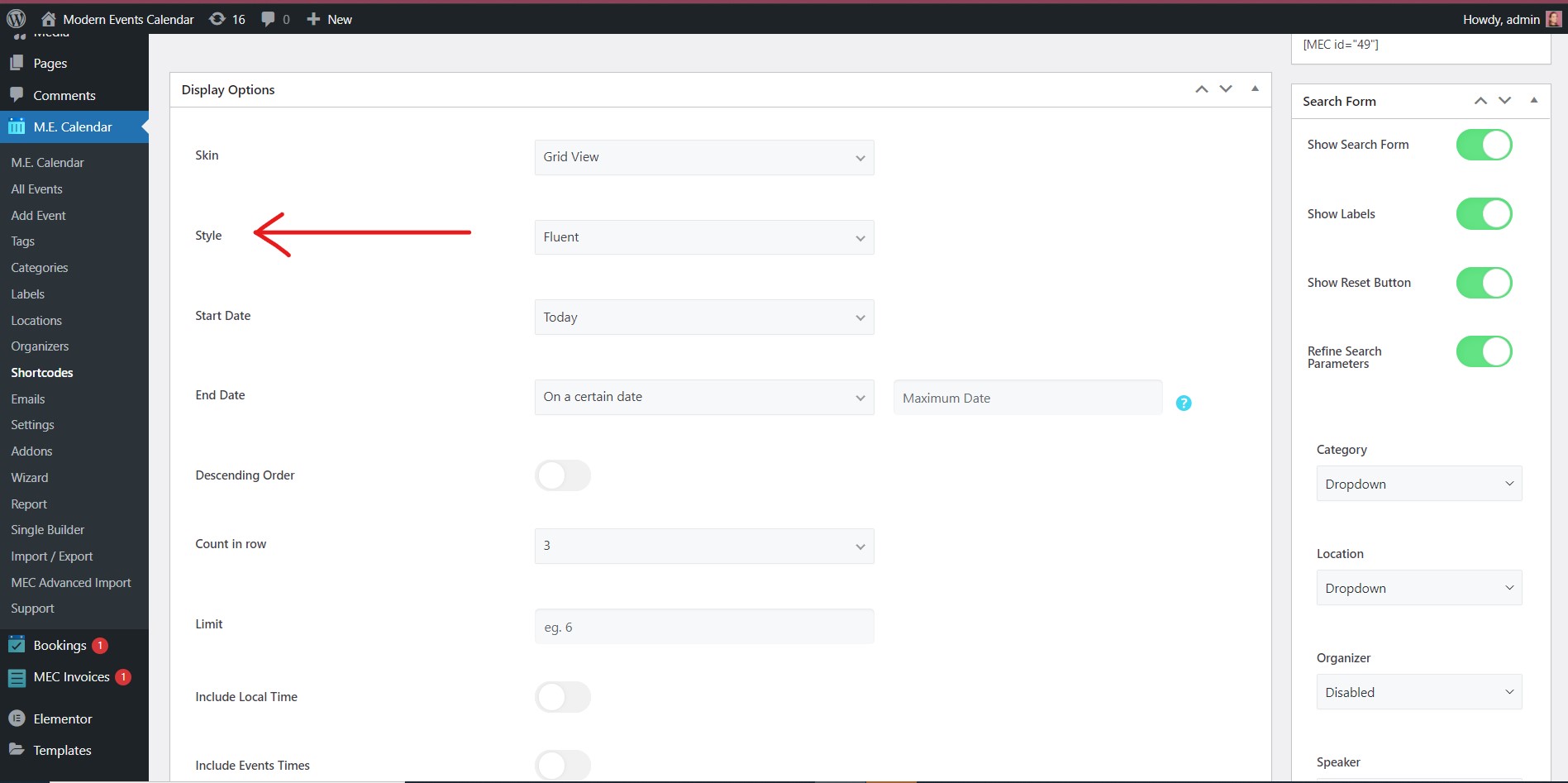 To be able to display the filter's geolocation options on your map, you need to go back to your event location in the Location menu and define the data for each event. Then, if you navigate to the list of your event locations in the MEC menu in WordPress, you'll find that the above values have been accordingly added to the Locations
You can also use this addon for exclusive event shortcodes and display your events in a variety of ways.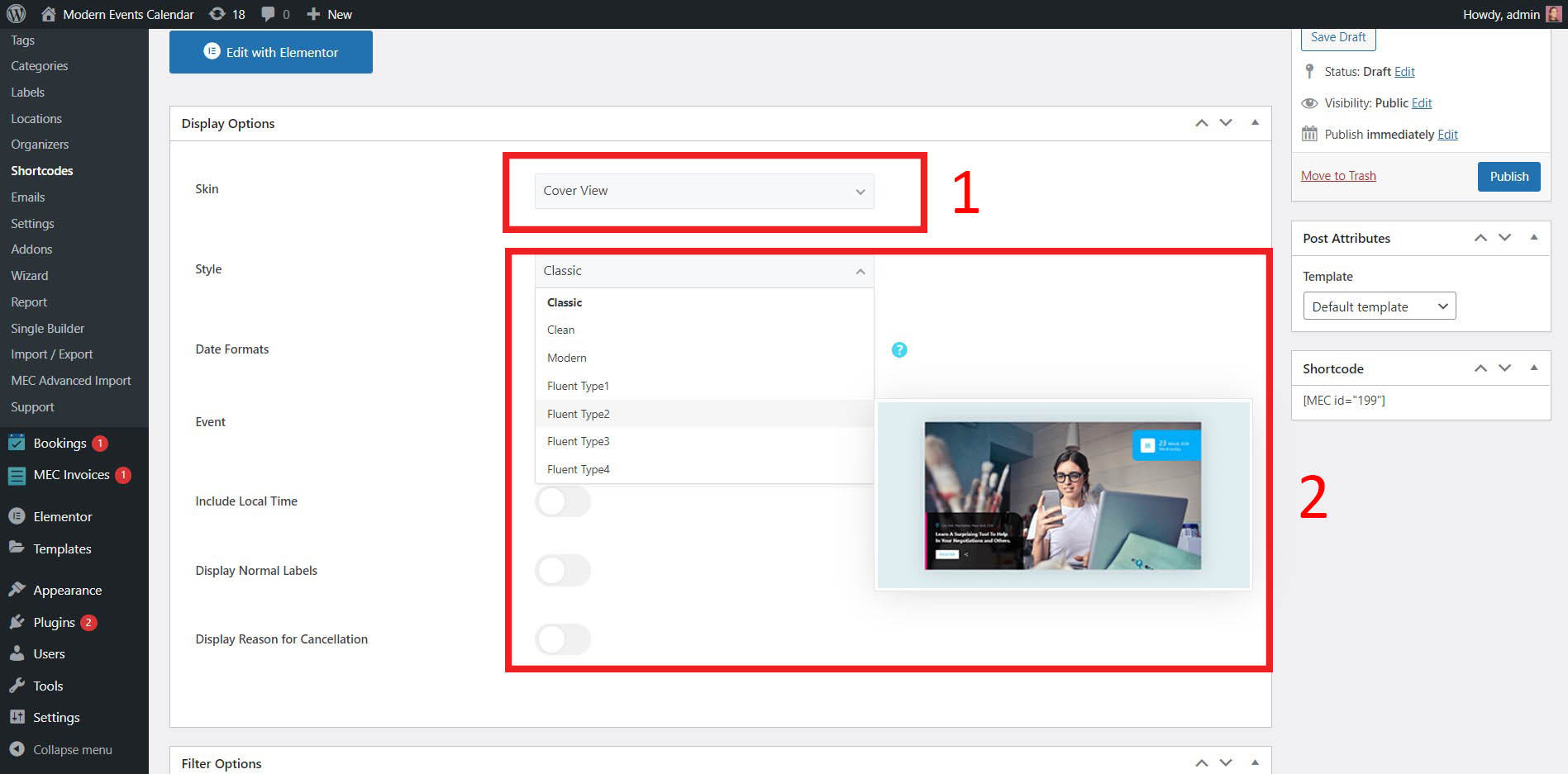 Here you can see some examples: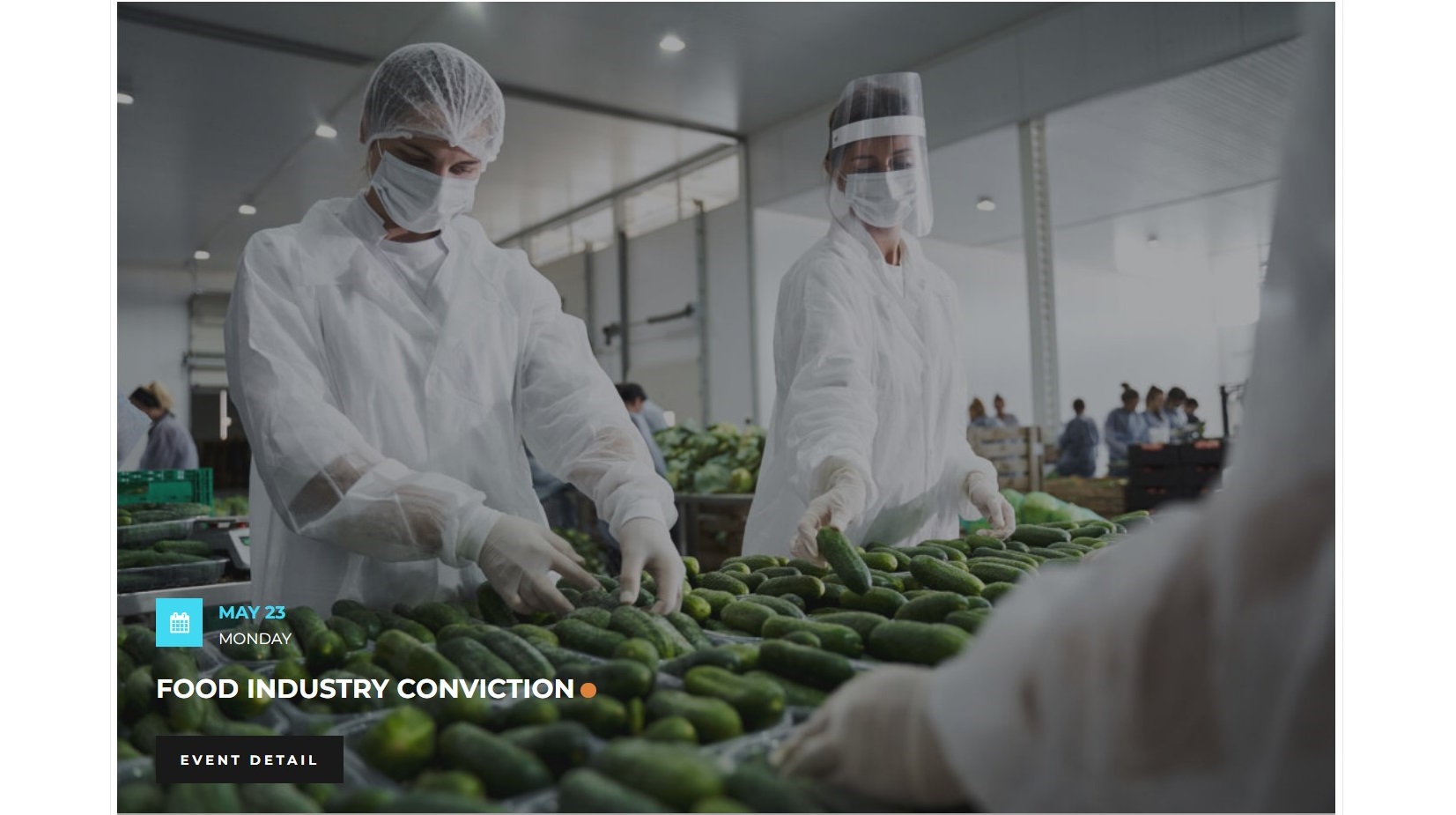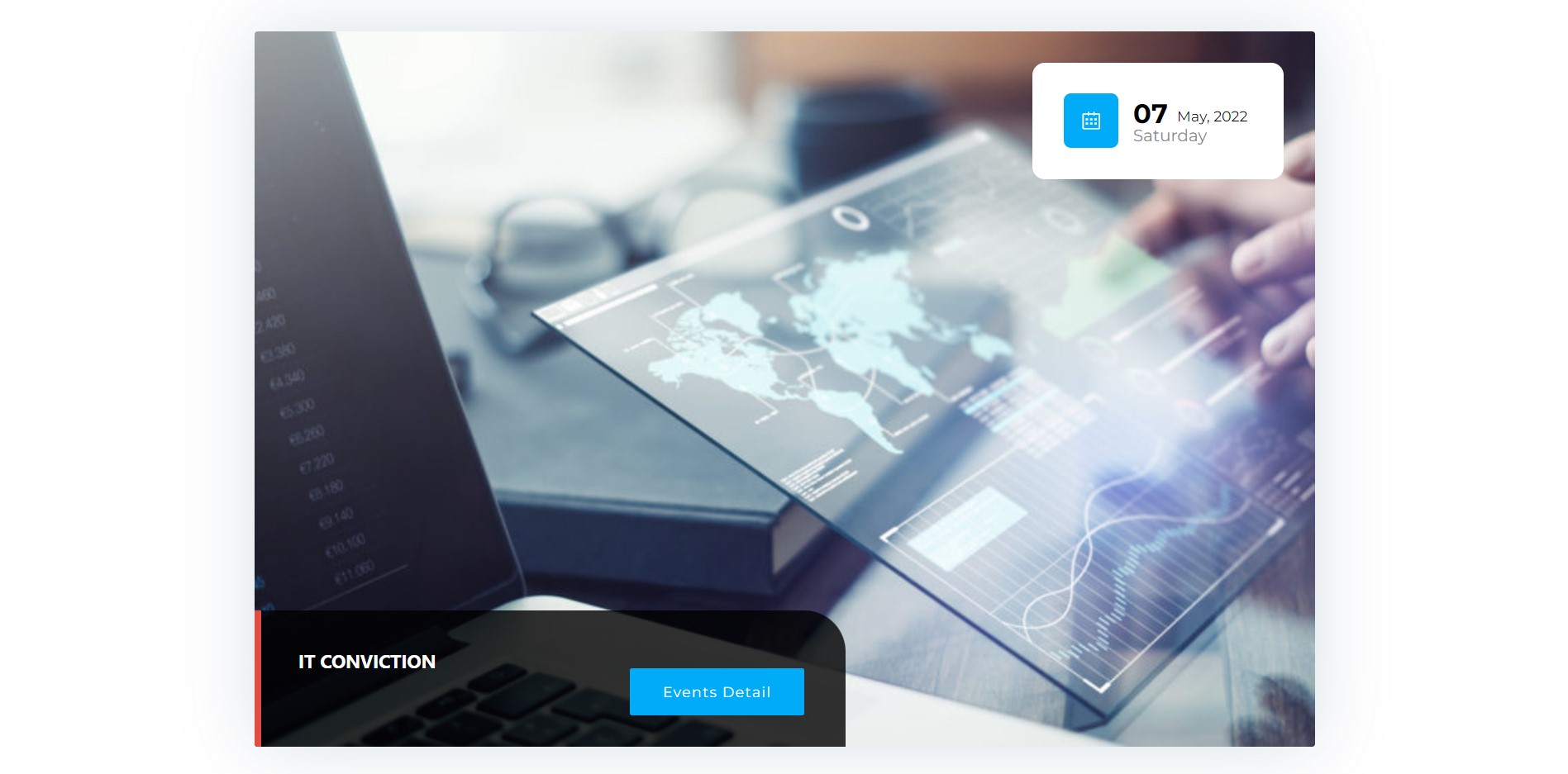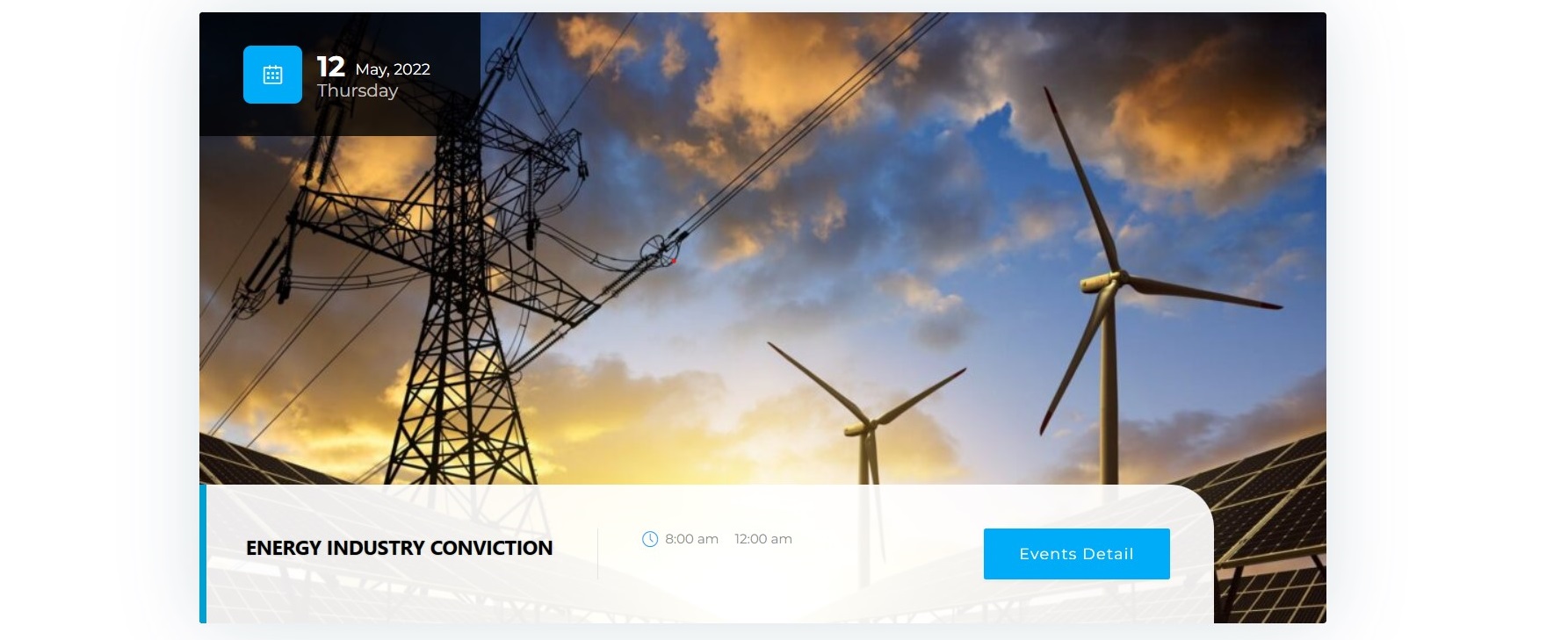 To do this, go to Shortcodes menu and click on Add Shortcode.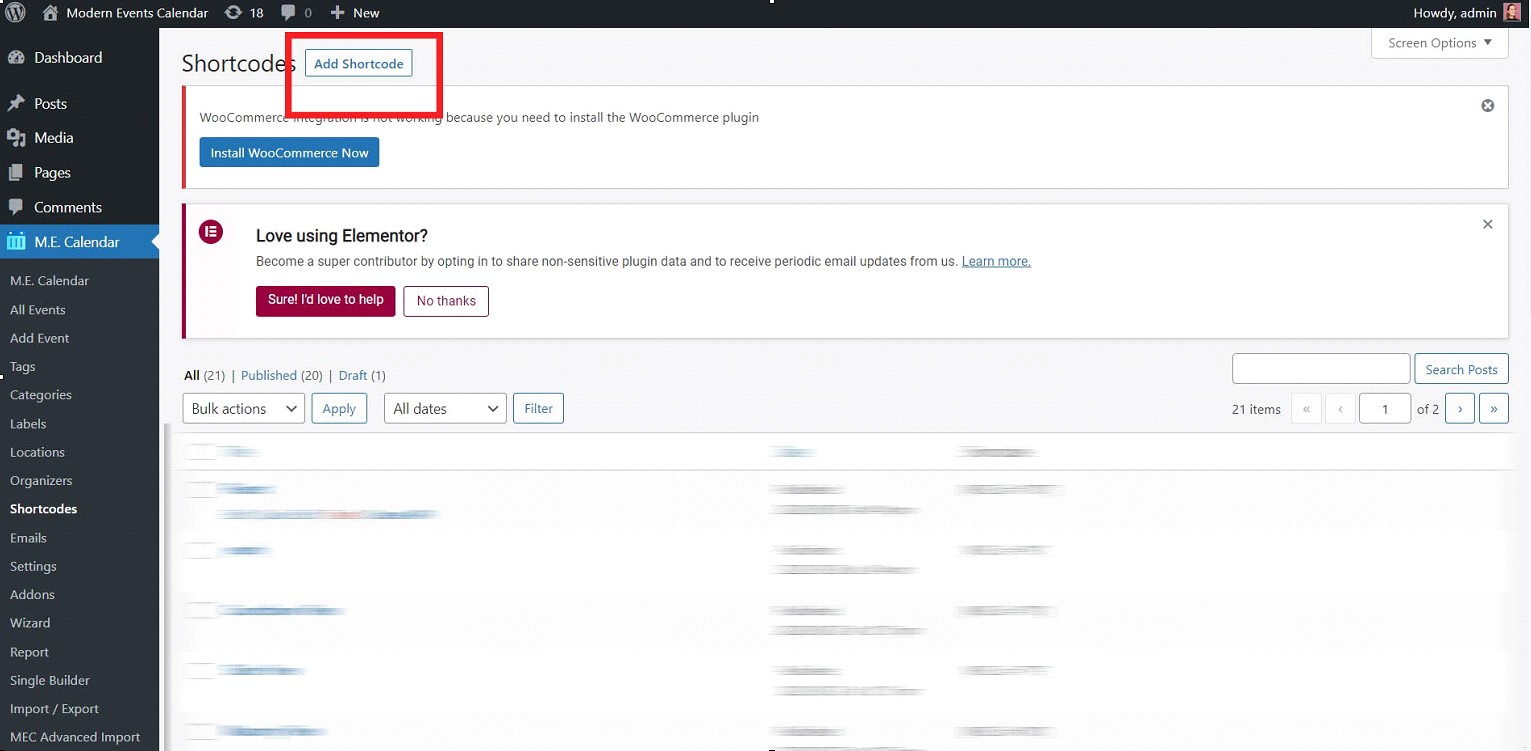 After creating the shortcode, set the skin option to Cover.
Then, from the Style menu you can select the style you like.
Now you can see our gallery for Fluent Layouts addon, please share your comments and thoughts…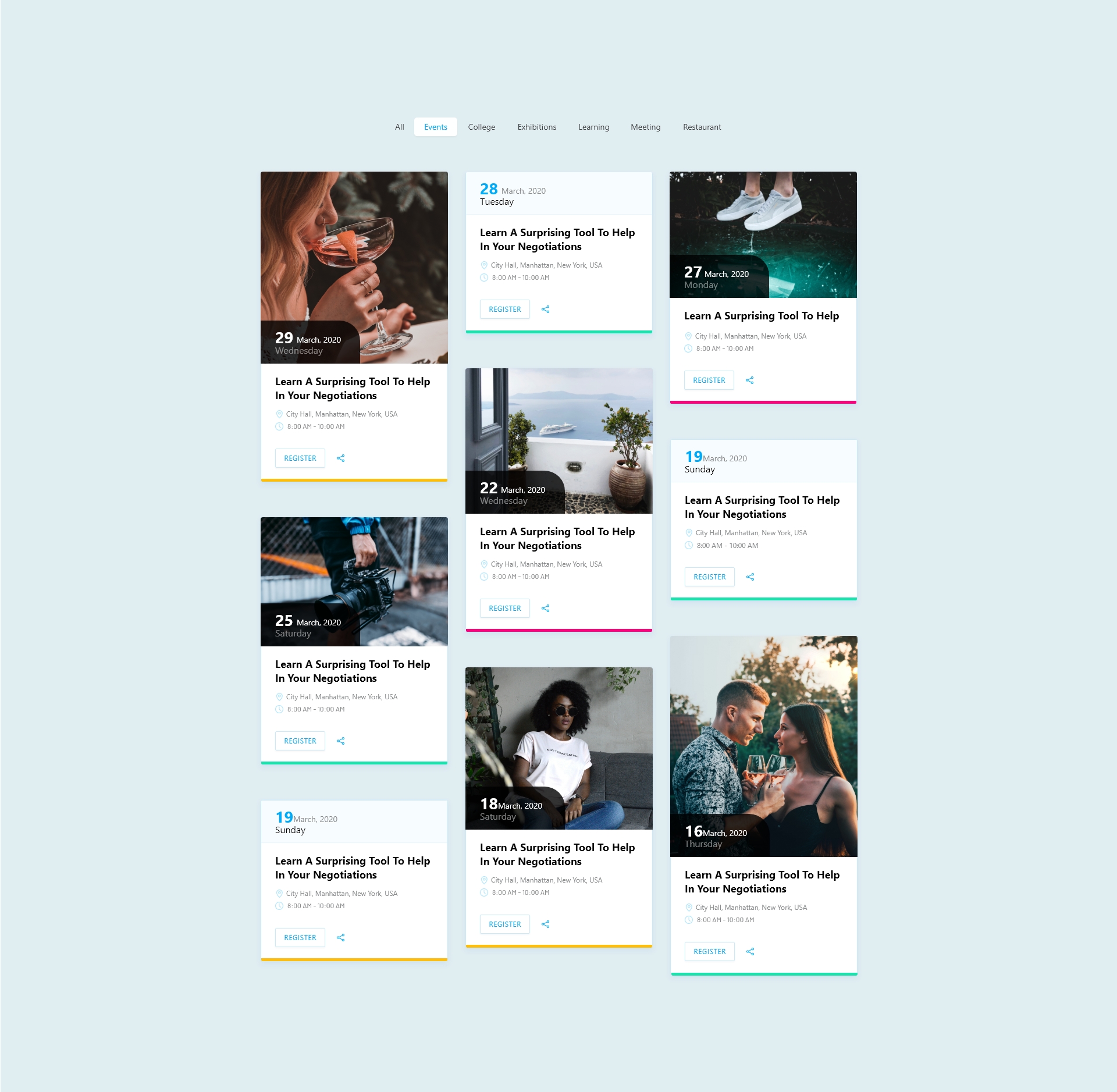 Select Fluent style for Single Event skin
Additionally, with this addon you can change the Single Event page. You will have access to novel and beautiful skins that are pre-designed for your event pages to save you some trouble.
You can go to MEC Settings > Single Event and select Fluent type and save the applied settings. All you need now is an event, because you have successfully applied the skin to the single event. If you don't know how to create an event, we have a guide in this landing page in the form of a GIF: How to add a new event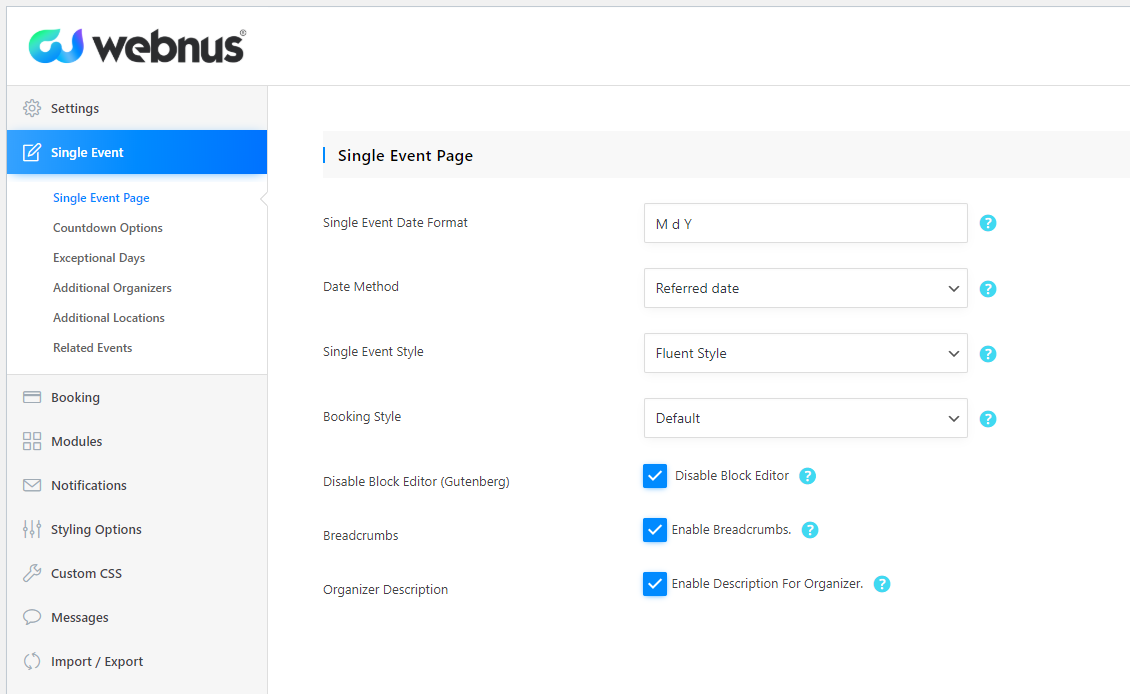 Fluent-view Layout Styles
Also, When this plugin is enabled, You can see these options in this menu: Settings > Styling Options
Enabling this option removes the restrictions of layer heights in Fluent.
Main color of Fluent addon, including icon color and title hover color.
This item manages secondary colors; i.e. the colors for items that are not main items.
Change button colors when hovering.
It is the color inside the shortcode and the sides. In some places, it is the normal color of the buttons.
Similar to background color but for the filtering section – background hover buttons for the slider and similar things.
Note: If you want to use the default color, you must clear the color for this item.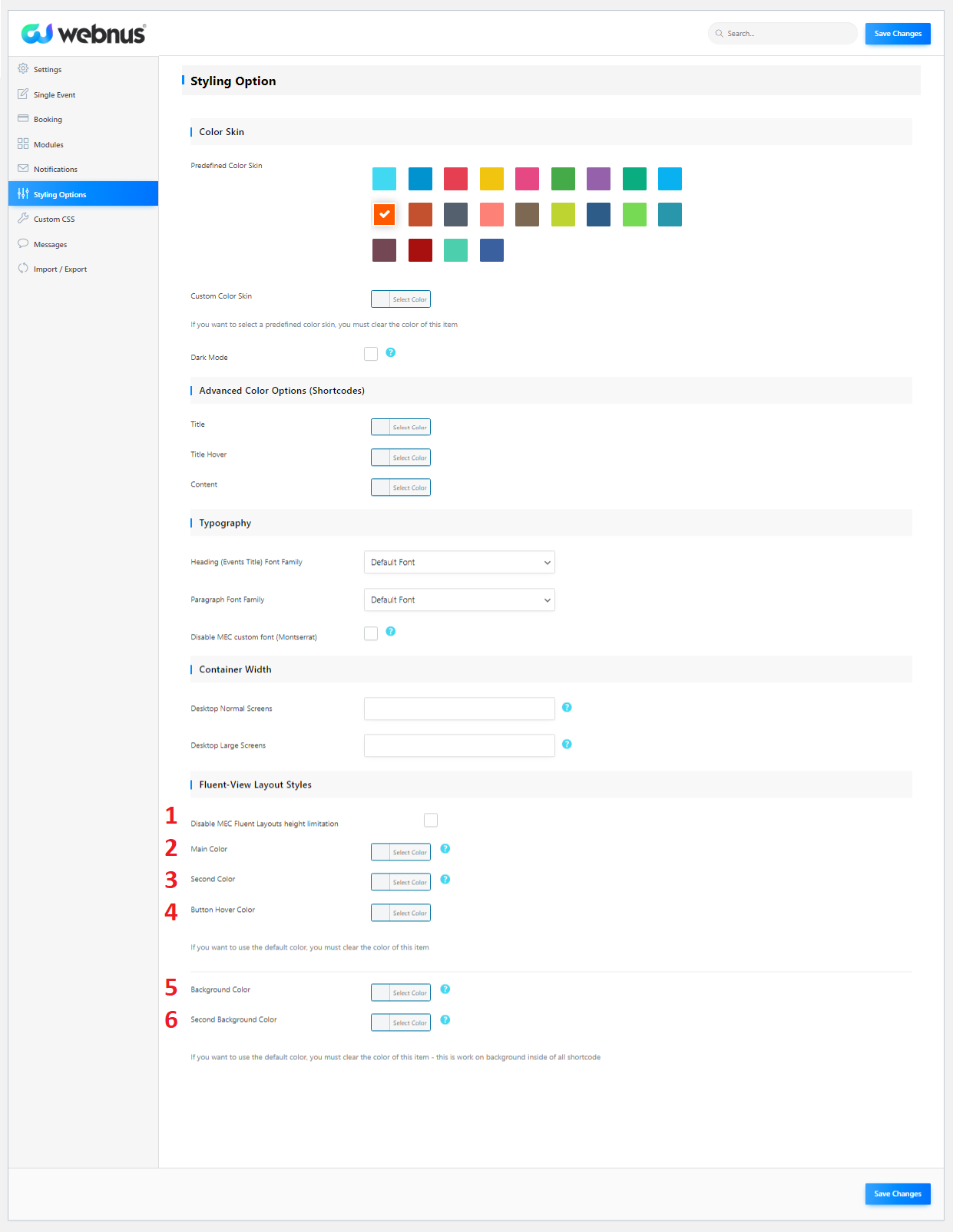 And you can change the Thumbnail size and wrapper background color in the shortcode settings.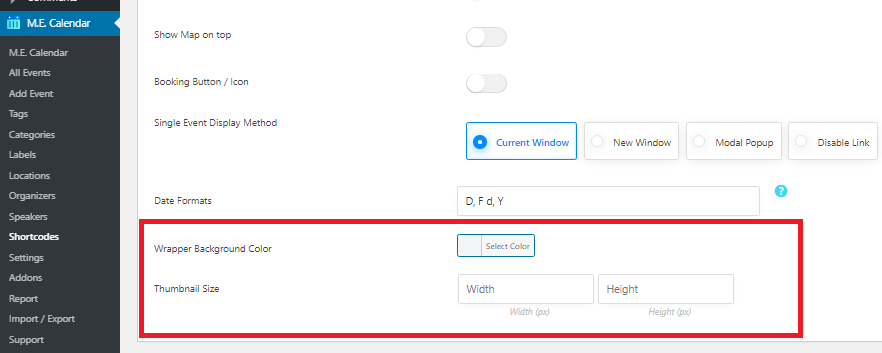 For more details about this addon please click on the "More Details" button and for purchasing you can click on the "Add to Cart" button, to redirect to Webnus checkout page.